Things To Do in Exeter in the Evening
The best things to do in the evening in Exeter
Exeter, the capital of the county of Devon, is a buzzing and vibrant university city with a host of events, activities and options for nightlife.
Whether you're a young couple looking to dance the night away or a family looking for a more chilled and tranquil vibe, then Exeter will have something for you.
In this article, we'll be exploring just a few of the options for what you can get up to in this glorious city in the evening and after the sun goes down.
Food and drink in Exeter
Everyone likes good food and drink, therefore, we wanted to start the list of with the foundations of what can turn a good evening into a great one. Exeter has a plethora of diverse and quality restaurants and eateries, all serving top-notch food, inspired by countries from across the globe. Some of our favourites are Lebanese food Comptoir Libanais, Thai restaurant Jasmine Thai, Caribbean restaurant Turtle Bay or Italian restaurant Sabatini.
Now, to wash down your delicious dinner, you'll want to head out to one of the many pubs, lounges and bars in Exeter, which all offer something different and there will undoubtedly be something for everyone. It would be impossible for us to list all of these amazing establishments, so some of our favourites include Doctor Ink's Curiosities, The Old Firehouse, Samuel Jones, Board – Game Café Bar and Rendezvous Wine Bar.
Live music in Exeter
After you've satisfied your appetite and quenched your thirst, why not head out to some evening entertainment? The joy of Exeter's diverse nightlife is that there is always something happening and will never be too far away. There are a number of fantastic established live music venues that have a number of gigs on throughout the week, with other smaller pubs hosting local musicians playing smaller acoustic sets. If you're in the mood to hear some finely crafted melodies, then we'd recommend checking out Lemon Grove, Exeter Phoenix, The Terrace, The Monkey Suit and The Cavern.
Cinemas in Exeter
Always stocked with the latest blockbuster releases, the Exeter Odeon and Vue Exeter cinemas are a perfect way to end the evening, whether it's a romantic date night or a family night out. Located within comfortable walking distance of the city center, both cinemas will make a great addition to your time spent in Exeter.
Alternatively, if you're looking for something a little different, why not try Exeter Picturehouse? Showing a mixture of bang up to date new releases, silver screen classics and unexpected blasts from the past, the cinema offers a great variety for its visitors. Full listings can be found on the website and we would thoroughly recommend keeping an eye there, as they are constantly bringing in new pictures.
Exeter climbing
As you're on holiday, maybe you're feeling a little adventurous? If so, then we would suggest checking out the Quay Climbing Centre. Open until 10 pm on weeknights and 8 pm on weekends, the centre offers a climbing experience for all ages and will allow the kids (and adults) to burn off some energy. With well over 200 routes to try, the centre will keep you coming back with the goal of conquering that ultimate route!
However, if climbing really isn't your thing, why not try a slower, more relaxing experience at their yoga studio? With two classes running every Thursday, this would be a great opportunity to stretch out your muscles and relax your joints.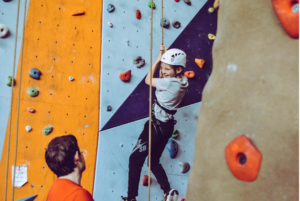 Escape rooms in Exeter
Traditionally, being locked in a room with friends or family and with almost no means of escape would have been most people's nightmare. However, with the evident rise in the popularity of escape rooms, people are relishing the challenge of finding clues to help them secure their freedom. Exeter has two escape room providers, Mission Escape and Red House Mysteries who will both offer a challenging and occasionally bonding experience.
---
Hopefully, this has provided you with some ideas of what you can get up to in Exeter in the evening!
If you need somewhere to stay when exploring the nightlife in Exeter, book a room at our nearby hotel online here or by giving us a call on 01626 868000!