Popular Devon beaches with Langstone Cliff Hotel guests
With golden sandy coastlines stretching along the entire Devonshire coast, it's hard to know where to spend a relaxing sunny day. 
Whether you're looking for some adrenaline-fuelled surfing or just want to let the kids burn off some energy we know where the best beaches are. So we've pulled together a list of favourite beaches in South Devon. Below, our guests can see how far they are from the hotel and how long it takes by car as a helpful guide.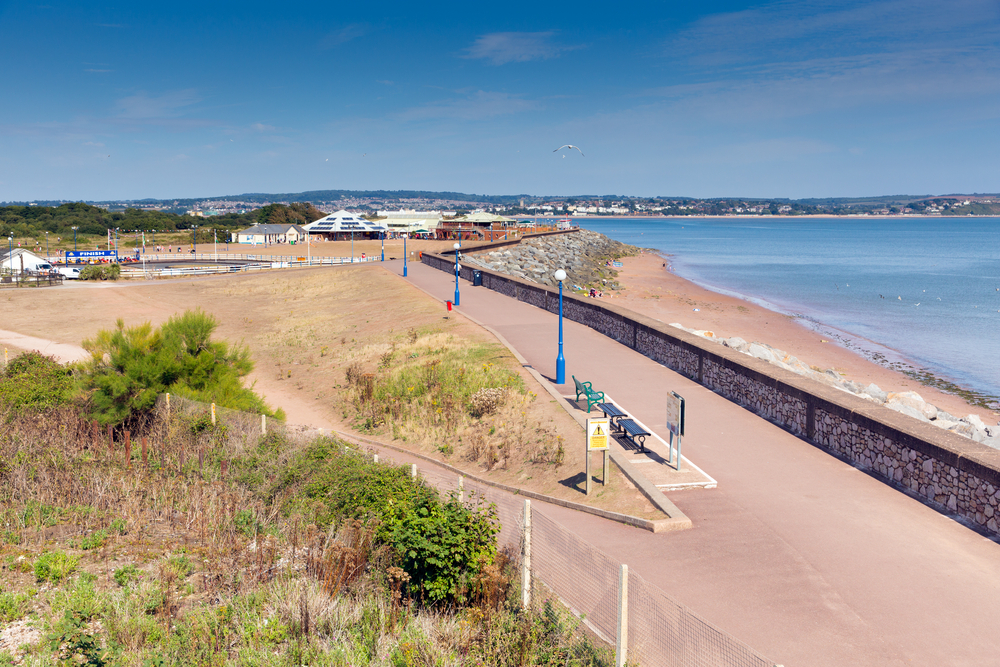 Dawlish Warren Beach
0.5 miles (Approximately 10 minutes walk  from Langstone Cliff Hotel
Right next door to White Sands Beach is the long, sandy beach of Dawlish Warren. As a family beach, it ticks all the boxes. At approximately one and a half miles long, you won't need to worry about finding a spot. If you enjoy surfing, then you'll be pleased to know you can take a chance here at the offshore swells in the colder months.
If you want to keep the kids entertained, there's plenty to do on and off the beach: such as go-karts, golf, and amusement rides located up and down the rear of the beach. As you approach the River Exe estuary at the northern end of the beach, make sure to check out the Dawlish Warren Nature reserve.

Dawlish Town Beach
1.5 miles (Approximately 5 minutes by car, 20 – 25 minutes walk) from Langstone Cliff Hotel
Just a stone's throw from Dawlish town centre and a short car journey from the hotel, Dawlish Town Beach is significantly smaller than Dawlish Warren but is in a much more convenient location. With the town right behind you, across the railway tracks, this sandy beach is a great way to get away from the hustle and bustle of the town. Both the town and beach are overlooked by the stunning cliffs of Lea Mount and Langstone Rock.
A two-minute walk past the beach huts at Boat cove around Lea Mount leads to the secluded sandy beach that is Coryton Cove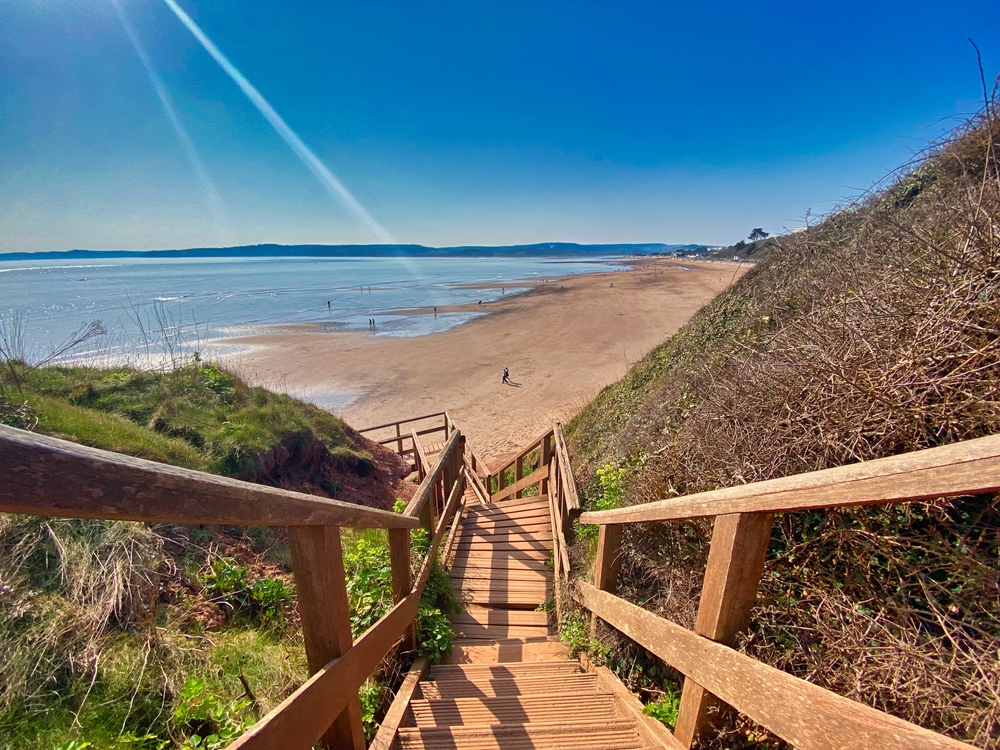 Exmouth Beach
15 miles (Approximately 40 minutes by car or train) from Langstone Cliff Hotel or approximately 10 minutes to access the river by passenger ferry from Starcross.
This two-mile stretch of golden sandy beaches has entertained holidaymakers for generations. Exmouth Beach has plenty of rockpools for kids and adults alike to explore, while the promenade is packed full of retro entertainment like swing boats and crazy golf. 
The beach and the surrounding cliffs also provide excellent walking routes, ideal for a quick stroll after lunch or for the more adventurous hikers seeking out the best views along the South coast.
As part of the UNESCO Jurassic Coast, a World Heritage site, Exmouth Beach and its cliffs are teeming with geological finds. Keep an eye out and you might get lucky with finding a fossil or two!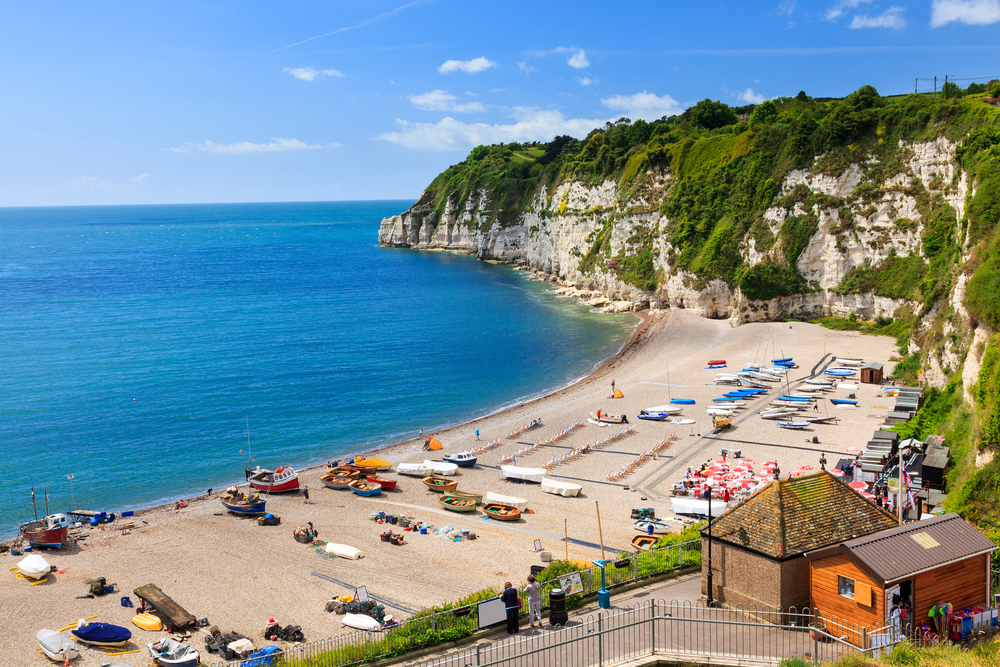 Beer Beach
35 miles (Approximately one hour by car) from Langstone Cliff Hotel
The drive is well worth the visit to the sleep seaside village of Beer and its shingle beach. Once a smugglers' haven, the family-friendly beach is surrounded by beautiful limestone cliffs and is far removed from the hustle and bustle of other major beaches.
Make sure to explore the stunning coastal walks to and from the towns of Branscombe and Seaton along the South West Coast Path and along to Dorset and East Devon World Heritage Coast.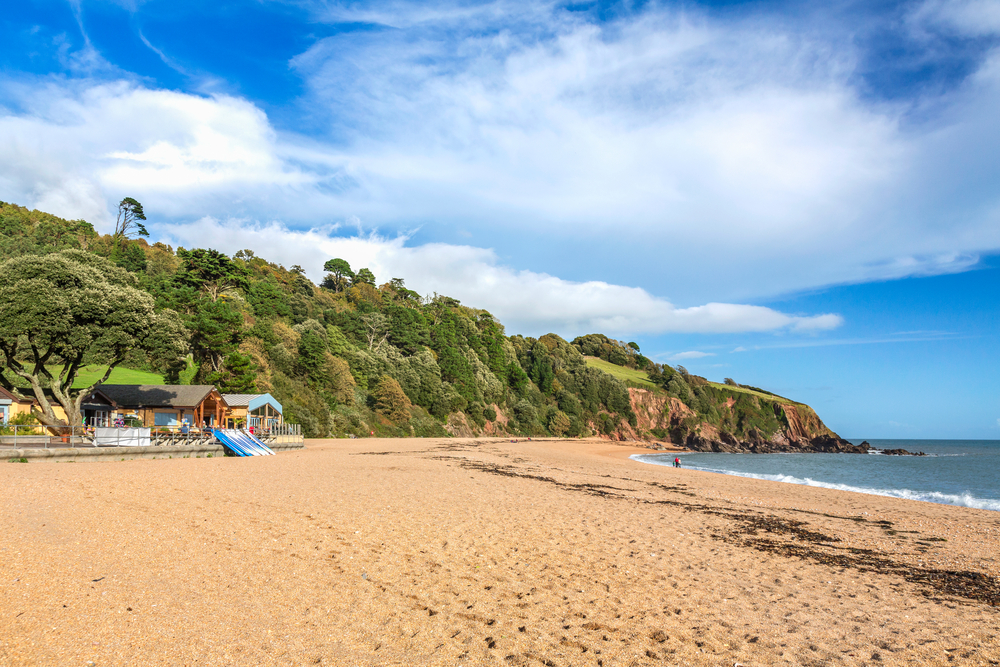 Blackpool Sands Beach
35 miles (Approximately one hour and 10 minutes by car) from Langstone Cliff Hotel
Set in a hidden bay, Blackpool Sands beach is lapped by beautiful clear blue waters and surrounded by lush evergreen and pine trees. The beach is perfect for a family day out with plenty of superb facilities such as showers, toilets and sandpits for the little ones to enjoy safe and supervised fun.
If you fancy doing something more exciting then there are plenty of exciting waters sports to try. Pick up a kayak, paddleboard or wetsuit on the beach and head out into the crystal clear waters.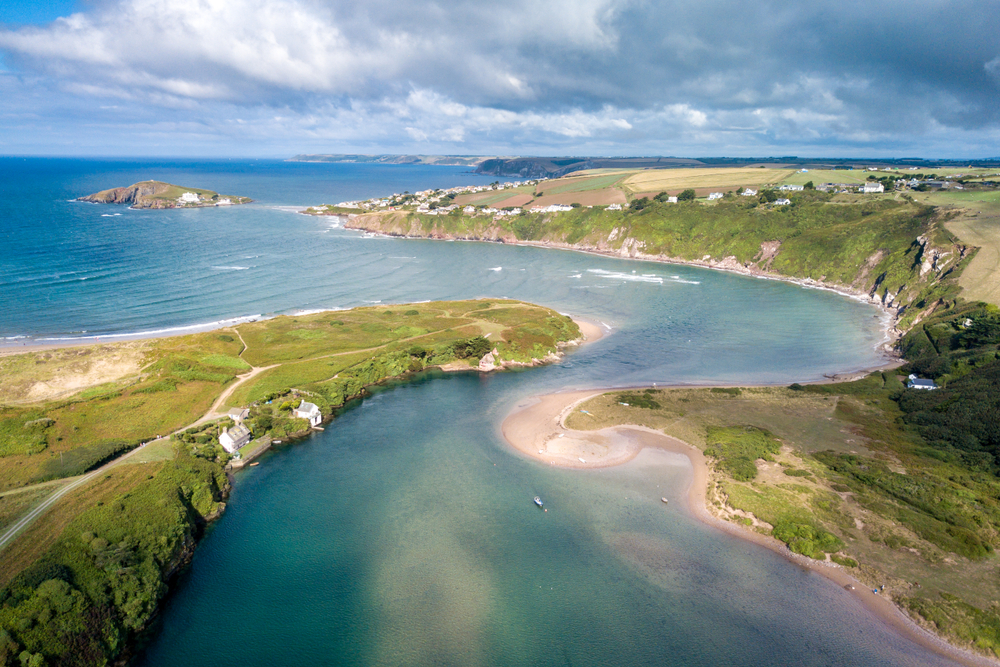 Bantham Beach
45 miles (Approximately one hour and 10 minutes by car) from Langstone Cliff Hotel
The large sprawl of Bantham Beach is perfect for family fun in shallow water or making epic castles with gorgeous soft sand. From here, you can see Bigbury Bay (with another great beach to visit if you have time) and Burgh Island just a short distance from the beach itself. Take a ride to Burgh Island in the famous sea tractor when the tide is low to take a look around the art-deco Burgh Island Hotel, amongst other buildings located there.
Bantham Beach is perfect for the watersport enthusiast too. It's popular with surfers of all skill sets. The mellow waves of the beach itself are ideal for beginners while the mouth of the River Avon will challenge even the most seasoned surfer with its ferocious rips and breaks.
Bigbury-on-Sea
43 miles (Approximately one hour and 15 minutes by car) from Langstone Cliff Hotel
Thanks to the dusty, sandy beaches, shallow waters and lots of rockpools to explore, Bigbury-on-Sea beach is perfect for a family day out. Because the beach location is wide and shallow it's also ideal for windsurfing and kite surfing if you're looking for a more exciting day out. Don't forget to visit nearby Burgh Island via the land bridge when the tide is out or enjoy the sea tractor ride when the tide is in.
And if you get tuckered out from all the activities, the village itself has plenty of nice places to have a bite to eat and quench your thirst.
Woolacombe beach
80 miles (Approximately 1hr 55mins by car) from Langstone Cliff Hotel
Arguably one of the most, if not the most famous beach in the UK, Woolacombe Beach stretches three miles across the North Devon coast between Croyde and Ilfracombe. The seemingly endless golden sands are ideal for family and water sports fanatics alike.
The beach has plenty of well-maintained facilities such as toilets and showers. At the northern end of the beach is the village of Woolacombe itself with plenty of shops, cafes, restaurants and pubs. For the avid walkers amongst our guests, take a stroll along the South West Coast path with stunning views of Lundy Island way out in the Bristol Channel.
---
With most of South Devon's stunning beaches only a short journey away, we like to think our home-from-home hotel makes a great place to rest up on either side of your explorations. Book a room here or give us a call on 1626 868000.