Popular Family Days Out

Devon Sea Safari
5 miles (Approximately 15 minutes by car) from Langstone Cliff Hotel
Devon Sea Safari is an exhilarating adventure that takes you on a thrilling journey along the stunning coastline of Devon. If you're a fan of marine wildlife, breathtaking scenery, and a splash of adrenaline, then this is an experience you won't want to miss.
First things first, buckle up and get ready for an adrenaline-pumping ride on a high-speed RIB (Rigid Inflatable Boat). As you set off on your sea safari, the wind in your hair and the salty spray on your face, you'll feel the excitement building up. The RIB is specially designed for these adventures, ensuring a safe and comfortable ride while allowing you to get up close and personal with the wonders of the sea.
One of the highlights of the Devon Sea Safari is the opportunity to encounter a variety of marine wildlife. Keep your eyes peeled for dolphins, seals, and even whales if you're lucky. These majestic creatures often make appearances along the Devon coastline, and your experienced guides will do their best to bring you to their favourite spots. It's a truly magical experience to witness these animals in their natural habitat, leaping and playing in the waves.
But it's not just about the wildlife. The coastline of Devon is a sight to behold, with rugged cliffs, hidden coves, and pristine beaches. Your sea safari will take you on a journey of exploration, showcasing the stunning beauty of the area. You'll discover hidden caves, secret beaches, and rock formations that will leave you in awe of nature's wonders.
The knowledgeable guides on the Devon Sea Safari are passionate about the local marine environment and wildlife. They'll provide you with interesting facts, stories, and insights into the creatures and ecosystems you encounter. You'll gain a deeper understanding of the importance of conservation and the need to protect these precious habitats for future generations.
The duration of the sea safari varies depending on the package you choose, ranging from shorter excursions to full-day adventures. Some tours may include stops for swimming or snorkelling in secluded coves, giving you a chance to cool off and immerse yourself in the crystal-clear waters of the Devon coastline.
Whether you're a nature enthusiast, a thrill-seeker, or simply looking for a unique way to explore Devon's coastal beauty, the Devon Sea Safari promises an unforgettable experience. It's a perfect blend of excitement, natural wonders, and educational insights that will leave you with lasting memories of this breathtaking part of the world. So, grab your camera, put on your life jacket, and prepare for an unforgettable adventure on the Devon Sea Safari!

Shaldon Zoo
6.5 miles (approximately 20 minutes by car) from Langstone Cliff Hotel
Shaldon Zoo, also known as Shaldon Wildlife Trust, is a small zoo located in the village of Shaldon, near Teignmouth.
The zoo is set in a picturesque landscape and offers visitors an opportunity to observe and learn about a diverse range of animals. Although it is a relatively small facility, Shaldon Zoo focuses on providing a high standard of care for its animal residents and strives to educate the public about the importance of wildlife conservation.
The zoo is home to a variety of animal species from around the world. Some of the animals you can expect to find at Shaldon Zoo include primates like lemurs and monkeys, big cats like lynxes and servals, small mammals like meerkats and coatis, birds such as owls and parrots, reptiles including snakes and turtles, and amphibians like poison dart frogs.
Shaldon Zoo actively participates in conservation efforts and supports various breeding programs for endangered species. They also work closely with international organizations to protect and rehabilitate animals in the wild. The zoo's primary aim is to raise awareness about conservation issues and inspire visitors to take action in preserving wildlife and their habitats.
In addition to animal exhibits, Shaldon Zoo offers educational programs, guided tours, and interactive experiences for visitors of all ages. It provides an opportunity to get up close to the animals, learn about their natural behaviors, and understand the challenges they face in the wild.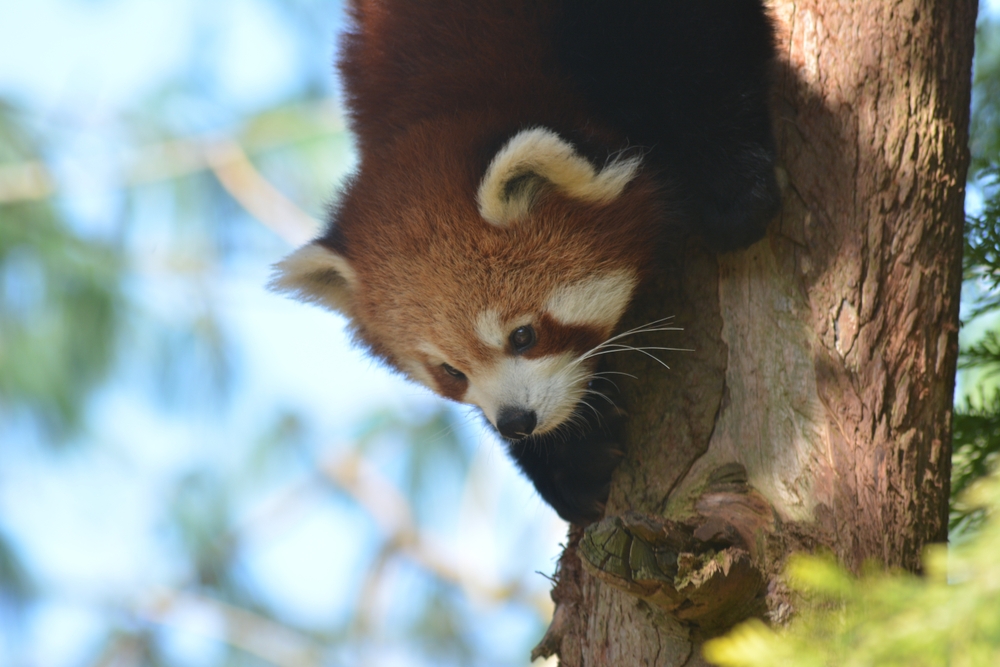 Paignton Zoo
18 miles (Approximately 39 minutes by car) from Langstone Cliff Hotel
Paignton Zoo is an absolute paradise for wildlife enthusiasts and nature lovers. Nestled in the picturesque seaside town of Paignton, this zoo offers an unforgettable experience filled with incredible animals, conservation efforts, and educational opportunities.
The moment you step foot into Paignton Zoo, you'll be greeted by a world of biodiversity. With over 2,500 animals representing more than 250 species, there's something for everyone to admire and learn about. From majestic big cats like tigers and lions to playful primates swinging through the trees, the zoo provides a diverse range of animals from all corners of the globe.
One of the highlights of visiting Paignton Zoo is the opportunity to observe these fascinating creatures up close. The zoo's well-designed enclosures mimic their natural habitats, allowing for immersive and ethical viewing experiences. You can witness the grace of giraffes as they gracefully roam their savannah-style enclosure or marvel at the agile movements of endangered primates in their lush surroundings.
In addition to observing the animals, Paignton Zoo offers a variety of interactive experiences. You can participate in feeding sessions, where you'll have the chance to see animals like penguins or meerkats up close and learn about their dietary needs. The zoo also hosts daily animal presentations and talks, where knowledgeable staff members share fascinating facts and insights about the animals in their care.
One of the key aspects that set Paignton Zoo apart is its commitment to conservation. The zoo actively participates in breeding programs and supports various international projects aimed at protecting endangered species. Visitors have the opportunity to learn about these initiatives and the importance of biodiversity conservation through informative displays and exhibits.
For families with children, Paignton Zoo is a fantastic destination. The zoo offers a range of child-friendly activities, including play areas, educational trails, and interactive exhibits. Kids can embark on an adventure, discovering fascinating facts about animals while having fun at the same time.
The zoo is set within beautiful grounds, providing a picturesque backdrop for your visit. You can enjoy leisurely walks through well-maintained gardens and take in scenic views while immersing yourself in the wonders of the animal kingdom.

World of Country Life
20 miles (Approximately 46 minutes by car) from Langstone Cliff Hotel
If you're looking for a day filled with laughter, entertainment, and a touch of countryside charm, then World of Country Life is the place to be.
As soon as you step foot into the World of Country Life, you'll be transported back in time. It's like entering a living museum of rural life, complete with vintage farming exhibits, antique tractors, and traditional farm machinery. You can explore the fascinating farming museum, learning about the tools and techniques that shaped the countryside in days gone by.
But the real stars of the show are the adorable animals that call World of Country Life their home. From fluffy goats and lovable alpacas to cute guinea pigs and rabbits, you'll have the chance to get up close and personal with a wide variety of farm animals. You can feed them, pet them, and even cuddle them if they're feeling particularly friendly. It's a fantastic opportunity for children and adults alike to connect with nature and experience the joys of being around animals.
And the fun doesn't stop there. World of Country Life offers a range of exciting activities and attractions for the whole family. Kids will be overjoyed with the daily falconry displays, where they can witness majestic birds of prey in flight. And if that's not enough, they can also take a ride on the Deer Train Safari, a unique and thrilling adventure that will have them giggling with delight.
The farm boasts an adventure playground, filled with slides, swings, and climbing frames. It's the perfect place for little ones to burn off some energy and let their imaginations run wild. And on those rainy days, don't worry, because there's also an indoor soft play area where kids can continue the fun, rain or shine.
Throughout the day, you can grab a bite to eat at one of the on-site cafes, serving delicious snacks and meals made with local ingredients. And if you're in the mood for some shopping, you can browse the farm-themed gift shop and take home a memento to remember your visit.

Pennywell Farm
25 miles (Approximately 45 minutes by car) from Langstone Cliff Hotel
Pennywell Farm is an absolute gem for animal lovers. Located just a short drive away, it's a delightful place to spend a day. This family-run farm offers a unique hands-on experience with various farm animals. From cuddling adorable piglets to bottle-feeding lambs, there's no shortage of heartwarming interactions. Kids and adults alike will be thrilled to meet the friendly miniature pigs, goats, and even the resident wallabies. If you're lucky, you might witness the famous Pennywell miniature pig race, a sight that will surely bring a smile to your face. 
While you visit, make sure to check out their homemade ice cream. They make it right there on the farm using their own milk. It's creamy, delicious, and the perfect treat to enjoy after a day of animal adventures and activities.
The best part about Pennywell Farm is that it's a family-run business, so you can feel the love and care they put into every aspect of the farm. The staff are friendly and knowledgeable, and they're always happy to answer any questions about the animals or the farm itself. Overall, it's a great family day out.

The Donkey Sanctuary 
23 miles (Approximately 50 minutes by car) from Langstone Cliff Hotel
Situated amidst the beautiful Devon countryside, the Donkey Sanctuary is a sanctuary and refuge for donkeys rescued from various challenging situations. As you stroll through the grounds, you'll have the opportunity to meet and interact with these gentle beings, each with their own unique story. From donkeys rescued from neglect or abandonment to those retired from hard labour, every donkey has found a safe and caring home here.
One of the highlights of the Donkey Sanctuary is the chance to learn about the crucial work they do to promote donkey welfare worldwide. The sanctuary provides educational exhibits and information about the history, care, and importance of donkeys in society. You'll gain insights into the challenges they face and the efforts undertaken to protect and improve their lives.
As you wander through the sanctuary, you can witness the deep bond that develops between the donkeys and their caretakers. The staff members are dedicated and passionate, ensuring that the donkeys receive the love, attention, and specialized care they need. They'll happily share stories and provide insights into the unique personalities and quirks of these remarkable animals.
Moreover, the Donkey Sanctuary offers the opportunity to support their important work through their adoption program. By adopting a donkey, you contribute to their ongoing care, veterinary needs, and overall well-being. It's a meaningful way to make a difference and show your love for these incredible creatures.
The sanctuary also boasts beautiful surroundings, allowing visitors to enjoy peaceful walks in nature while being surrounded by donkeys grazing and enjoying their newfound sanctuary. You can take a stroll through the fields and meadows, or simply sit and observe the donkeys in their tranquil environment.
The Donkey Sanctuary in Devon is not only a place to experience the joy of interacting with these amazing animals, but it's also a haven of compassion and a centre for education and awareness. It's a reminder of the importance of treating all animals with kindness and respect.
So, if you're ready for a heartwarming and enlightening experience, a visit to the Donkey Sanctuary is an absolute must. Prepare to be touched by the resilience of these donkeys and leave with a deeper understanding of their significance in our world.
Nestled amidst the breathtaking landscapes of Dartmoor National Park in Devon, England, the Dartmoor Zoological Society offers an unforgettable experience for animal lovers and nature enthusiasts alike. This unique zoological society combines conservation efforts, education, and visitor activities to provide an immersive and educational experience for all who visit.

Dartmoor Zoological Society
40 miles (approximately 56 minutes by car) from Langstone Cliff Hotel
The Dartmoor Zoological Society was founded in 2007 by Benjamin Mee, whose remarkable story was later depicted in the best-selling memoir and film, "We Bought a Zoo." Inspired by a vision to create a sanctuary for endangered and exotic animals, Mee, along with a dedicated team, transformed the rundown Dartmoor Wildlife Park into what is now known as the Dartmoor Zoological Society. Today, the society continues to uphold its commitment to wildlife conservation, research, and public engagement.
Dartmoor Zoological Society offers a plethora of activities designed to engage and educate visitors of all ages. Whether you're seeking an up-close encounter with fascinating animals or a tranquil walk through beautiful surroundings, there's something for everyone to enjoy.
You can go on guided tours that provide intimate encounters with a wide variety of animals, including big cats, primates, reptiles, and birds of prey. Expert guides offer insights into the behaviour, conservation, and unique characteristics of the resident animals, fostering a deeper appreciation for wildlife.
For an extraordinary adventure, visitors can participate in feeding sessions where they can get involved in the daily care of the animals. Whether hand-feeding giraffes or helping to prepare meals for meerkats, these experiences offer a chance to interact with the animals and learn about their dietary requirements.
Dartmoor Zoological Society places a strong emphasis on education. They provide informative talks, workshops, and interactive sessions for schools and educational institutions, promoting an understanding of biodiversity, conservation, and ecological balance.
And let's not forget where you are. The surrounding Dartmoor National Park boasts stunning landscapes and diverse flora and fauna. We strongly encourage visitors to take on nature walks led by knowledgeable guides, who share insights into the park's natural wonders, including its unique habitats and native species.
Of course, we have to mention the animals themselves. Dartmoor Zoological Society is home to a wide range of animal species from across the globe, including both native and exotic creatures. From majestic big cats like lions and tigers to playful primates such as lemurs and monkeys, the society offers a chance to observe these remarkable animals up close while promoting their conservation and well-being.
Combining visitor activities, educational programs, and a commitment to animal welfare, the society provides a memorable and enriching experience for all who visit.