Afternoon Tea At Langstone Cliff Hotel
Spend time with loved ones and take afternoon tea in Devon
Langstone Cliff Hotel's large and comfortable public rooms are the idea spot for taking afternoon tea. You can choose from The Lounge, Verandah Room, Drawing Room and the Poolside Room, all of which are fronted by a cast-iron Victorian Verandah and enjoy spectacular sea views across the hotel lawns towards the Exe Estuary and English Channel.
Afternoon tea is available for just £15.00 per person and includes;
A selection of sandwiches – choose from beef, chicken, ham, cheese, cheese and pickle, cheese and tomato, tuna mayonnaise and egg mayonnaise. (Prawn is available from £1 extra per person and smoked salmon from £1.70 per person).
One scone
A selection of bite size pieces of cake or mini desserts
Tea or coffee
Alternatively, our Devonshire Cream Tea includes scones, clotted cream and jam, served with your choice of tea or coffee from just £7.50 per person.
Drinks may be ordered at anytime from the Lincoln Bar and can be served almost anywhere in the hotel, including the lawns or verandah. The Lincoln Bar currently has a selection of seven draught beers and ciders, wine by the glass, a variety of soft drinks, Twinings and Tetley teas and Douwe Egbert coffees in comfortable surroundings.
Please book in advance (ideally 48 hours). Payment will be taken at the time of booking.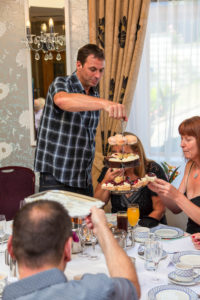 For Devonshire cream tea for smaller parties there is normally no need to pre-order though it would be helpful if you know your plans.
The hotel also has an extensive range of wines available to add to your tea for that extra special touch.
Why not add a touch of sparkle? Sip pink sparkling wine whilst relaxing on our beautifully sunlit Verandah overlooking the sea with Sandwiches and Cakes – doesn't that sound good to you?
The Langstone Cliff Hotel, Devon has a reasonably priced and fairly expansive wine list offering a variety of wines from most of the principal wine producing areas of the world. The selection includes red, white and rose wines as well as a selection of Champagnes.
Snacks and Light Meals
In addition to our afternoon teas, we also offer an extensive snack and light lunch menu which features a comprehensive range of freshly prepared hot and cold dishes. These are available from 9:00am until 11:30pm and can be ordered from the Lincoln Bar and served almost anywhere in the hotel or on the spacious lawns. Currently the menu includes a variety of dishes including:
Chicken Tikka and Chilli Con Carne
Pizzas and Pasta, including Lasagne
Traditional style pub grub – Cottage Pie, Sausages & Mashed Potatoes with Onion Gravy
Deep-Fried Scampi, Steamed Salmon Steaks
Grilled Gammon, Beef Steak and Burgers.
A range of Sandwiches, Baguettes and Jacket Potatoes.
A selection of Children's Meals.
Side Dishes and Salads
A variety of Teas, Coffees and Cakes as well as Devonshire Cream Teas with the Jam on top in traditional Devon fashion!!
The hotel offers a selection of cold snacks & sandwiches 24 hours a day. There is a downloadable version of our Snack and Light Lunch Menu available here.
There is no need to book a table should you wish to join us for a light snack or meal.