Langstone Cliff Hotel Presents: The 2018 Autumn Loyalty Weekend
Remember our Kenny Ball Nights? We're paying tribute to Kenny Ball and his Jazzmen with the Bateman Brothers Band – bringing you authentic renditions of your favourite hits.
Come and join us this Autumn Loyalty Weekend where we will have two fun-filled nights lined up for you from the 2nd-4th November. And just who can come? Our Loyalty weekends are just what they say – a weekend of exceptionally good value and open to all those of you that have visited the hotel before.
If you remember our infamous Kenny Ball nights then you will too remember the buzzing, lively atmosphere that came with them.
Our Washington Suite was opened in 1976 and this heralded the commencement of the Langstone Special Cabaret Weekends, when we tried to bring the "name" acts that we could afford to deepest Dawlish! Our first choice was Kenny Ball and his Jazzmen – and it wasn't a mistake! Kenny and the band went on to entertain us on an amazing thirty seven occasions, with such fabulous renowned hits as Midnight in Moscow, Samantha, March of the Siamese Children, Green Leaves of Summer Sukiyaki and so on – all very dance-able and presented with Kenny's wry humour. 
To this day many of our regular guests pose the question "Do you remember the Kenny Ball Nights – weren't they great?" And indeed they were – join us to re-create that same great atmosphere.
Saturday evenings entertainment features the fabulous sounds of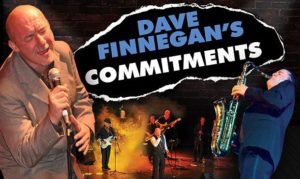 Dave played Mick Wallace the head butting drummer in the hit cult movie The movie went on to receive an Academy Award nomination and it also won 4 BAFTA Awards for Best Movie, but we all know the movie was all about the music. The soundtrack of the movie reached number 1 and was 76 weeks on Billboard 200 and it sold in excess of 12 million albums worldwide.
 Hear all the hits from the movie performed by one of the stars of the movie, songs like: Mustang Sally, Take Me To The River, Chains Of Fool, The Dark End Of The Street, Try A Little Tenderness, Mr Pityful, In The Midnight Hour, Hard to Handle and many many more.
This is a show that will have you dancing and shouting for more!
And in the fervent hope that that will happen, we shall have one of the hotel's favoured discos just to keep the party rolling.
The Weekend's Programme is:
Friday 2nd November 2018
1.00 – 2.30pm Buffet Lunch
4.30 – 5.30pm Afternoon Tea with Cakes
6.30 – 8.30pm Complimentary Drinks at the Bar
7.00 – 8.30pm Dinner
9.00 – 12.00 Kenny Ball's Greatest Hits
Saturday 3rd November 2018
7.30 – 10.00am Full English Breakfast
1.00 – 2.30pm Afternoon Tea and Cakes
6.30 – 8.30pm Complimentary Drinks at the Bar
7.00 – 8.30pm Dinner
8.30 – 12.30pm Dancing and Cabaret featuring
Dave Finnegan's Commitments –  with 8 piece band
Sunday 4th November 2018
8.00 – 10.00 Full English Breakfast
1.00 – 2.30 Traditional Sunday Lunch
| | |
| --- | --- |
| Standard Double Room | £265.00 |
| Standard Family Room/Twin | £275.00 |
| Larger Family Room/Twin | £280.00 |
| King Sea View Double Rooms | £285.00 |
| King Sea View Family Rooms | £290.00 |
| Balcony/Family Twin Rooms | £295.00 |
| King Family Suites & Suite | £315.00 |
| Standard Single Room | £305.00 |
Non Residential Tariff
Friday 3rd November 2018
Dinner with Kenny Ball's Greatest Hits                    £37.50
Saturday 4th November 2018
Dinner and Dave Finnegan's Commitments                    £49.00
Additional days – either before or after – at great value terms – from £65.00 per person per day to include, dinner, accommodation and breakfast.
Terms are per person inclusive of  VAT @  20.00%
To come and experience world-class hits and a weekend to remember contact us here or call us on 01626 868000.