Valentines Celebration - Saturday 11th February 2023
Live Guitar and Vocals from Dave & Tash Duo with easy listening favourites from  John Denver, Simon and Garfunkel, Glen Campbell, James Taylor and many more.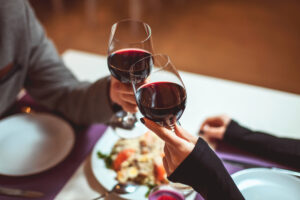 Menu
Creamy Pea and Mint Soup
Bang Bang Chicken
A Prawn Salad with an Avocado, Mango and Cucumber Salsa
Golden Fried Breaded Camembert with Garlic Mayonnaise
***
Thick Sliced Sirloin of Beef with a Rich Peppercorn Sauce
Sautéed Breast of Chicken with Roasted Cherry Tomatoes, Asparagus and
Butternut Squash Puree
Pan Fried Fillet of Sea Bass with a Lemon and Caper Dressing and Wilted Spinach
Wild Mushroom and Courgette Carbonara with Spaghetti (V)
Leek, Blue Cheese and Walnut Tart  (V)
Roast Potatoes with Red Onion and Thyme and Sautéed New Potatoes
Braised Red Cabbage, Chantenay Carrots, Broccoli Florets
***
Warm Chocolate Brownie Slice with White Chocolate Sauce
Baked Vanilla Cheesecake with Strawberry Compote
French Lemon Tart
Coupe Edna May
A Platter of Cheese with Biscuits, Celery and Grapes
***
Coffee and Chocolate Mints
£40.00 per person to include a 175ml glass of house wine and a flower and chocolate for the ladies.  
One night Dinner, Room and Breakfast from £200.00 for two people. 
Please note: Most forms of transport can get right up alongside the main entrance. There is level or ramped access to all hotel facilities. There is a separate toilet for wheelchair users. There is ample free parking for cars and coaches and all parking must be validated at reception.
View Brochure