Festive Breaks in Devon 
December, Christmas and the New Year are busy times at the Langstone Cliff Hotel with a whole host of activities throughout the Festive period.
We commence December with our season of
Midweek special Christmas Lunches – Click Here for Details
Each Sunday in December we offer ourChristmassey Sundays – Click Here for Details
And in the evenings on the weekends we present
Langstone Christmas Special Party Nights – Click here for details.
The Christmas Holiday begins on 24th December and we have a
comprehensive programme available here.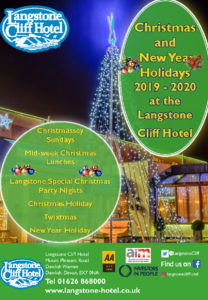 Twixmas is our next offering with some super value deals for those odd few days between christmas and new year. with rooms from £100.00 per person Full board i.e. Breakfast, Lunch, Afternoon Tea and Cakes, Dinner and entertainment. Our usual discounts for children sharing accommodation apply throughout the Christmas holidays.
Special Reductions for Children
Sharing Family Rooms and Suites
Throughout the year – including peak season, Christmas and Easter
Up to two (2) children under 10 years of age are completely free, food and accommodation, when sharing with two adults.
Additional children under 10 years are charged at quarter tariff.
Children 10 – 16 years of age, sharing as above are charged at half tariff.
Single parent families or one adult travelling with children please ask for special tariff.
Where three or four adults share family accommodation they will each be charged at 85% of the tariff.
All of which nicely completes the lead in to the New Year Holiday – full details available here.